CCNA Course in Islamabad
8 May 2023
05:00PM - 06:30PM
Careervision Institute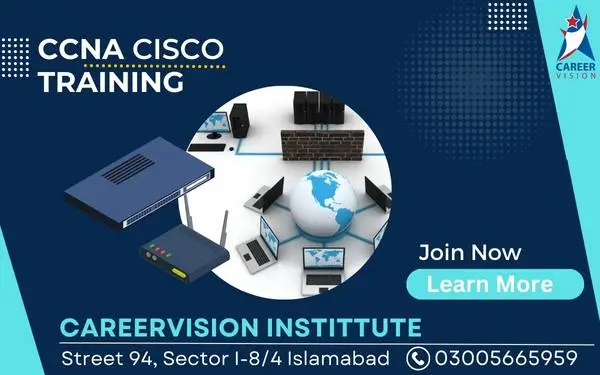 Course Overview
CISCO Certified Network Administrator CCNA Course
CCNA course is designed to prepare students about understanding and capable to create CISCO equipment and internation standard secured network for an organization islamabad. After completing ccna course you can design and recommend the best Cisco solutions for small to medium-sized businesses.
During cisco course ccna you will learn industry standard for configuration of small to high scale computer network usign CISCO switches most likely demand of organizations and IT industry in large city like islamabad, lahore, karachi or in rawalpindi.
CCNA course is consists of practical lab work on cisco devices and in basic networking course you will get training of the installation, configuration, and troubleshooting information that technical support people require to install and configure the Cisco Switches and Routers. CISCO Network course will be teach through Lectures, labs and interactive cases are provided to increase your understanding of the CISCO products and to best position them to meet customers' requirements by companies who want CISCO + CCNA + Network combination widely important to use in islamabad, lahore and in rawalpindi. CCNA curriculum includes basic mitigation of security threats, physical cable media, wireless network technology , introduction to wireless networking concepts and basic computer networking courses with relevant terminology, and performance-based skills. This networking coure will be helpful for student with normal basic IT knowledge and matric FSC exam passed stduents as well as fresh graduate want to start learning basic networking and cisco ccna course can join us for best learning in computer training courses institute in rawalpindi islamabad centers.
For Complete Course content details .. VIEW MORE