Freelancing Course Rawalpindi
8 May 2023
05:00PM - 06:30PM
Careervision Institute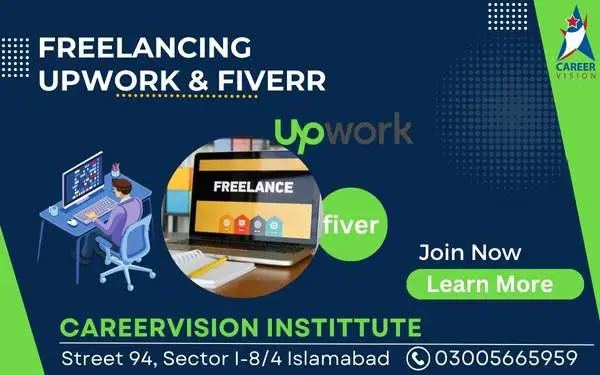 What is Freelancing?
Freelancing is providing services to clients remotly over internet. Frelancer is a self-employed individual who find work online on different platforms. When you freelance, you work with clients to complete his tasks and get paid for your efforts. Even though you are producing work for the clients, you aren't technically employed by them but yes long term contracts are here in freelancing course for online earning in pakistan.
What does a freelancer do?
While you might know there is only one answer to the question "what is freelancing?", in reality the services that freelancers provide are in different area of field which is not defined. If you are interested in freelancing, the kind of services you provide will depend on the type of work you want to do and on the skill sets do you have to complete clients tasks. Freelancers typically work on a project or job basis for short term work. How "short term" that work really is can depend on a lot of things. For example, the freelancer platform Toptal reports that the average project length of it's freelancers is 4-months. Many times projects are much shorter, though. Some projects might be able to be completed in a day, others in a week.
What skills are required for freelancing online earning in pakistan?
The skills you need is going to depend a lot on what kind of services you are providing. For example, a graphic designer is going to need a completely different skill set from a writer. And if you are a video editor, that's a unique set of skills too. However, there are some basic skills that all freelancers are going to need to have.
The best thing before choicing Freelancing will be the one you are mostly join some freelancing course what skilled you before you want to start. Of course, it's also important to provide work that is in demand in islamabad pakistan there are huge capacity and telant to learn graphic designing, social media marketing, content writing and web development courses in islambad are a good choice to earn. After all, if your learn compuer skills after attending training and practice it for expert level then freelancing services and jobs are avaiabel to make money.
What skill is best for freelancing?
The best fields you can choice of your good interest. It will be the one you can do practice alot to get expert to do work. Of course, it's also important to provide work that is in demand for online working in islamabad andrawalpindi. After all, if there are no clients who need your services, it's going to be almost impossible to make money. If you really have no idea where to start in deciding your niche, here's a list of some high-paying freelance jobs:
Social Media Marketing
Web Design and Development
Content Writing
Graphics Designing
Video Editing
Google My Business GMB Management
Google Map and Website Citation backlinks Creation
We have a very good training course. For Complete Freelancing Course content details .. VIEW MORE