Course Brief: Graphic Designing Course
10 June 2023
11:00AM - 04:00PM
Careervision Institute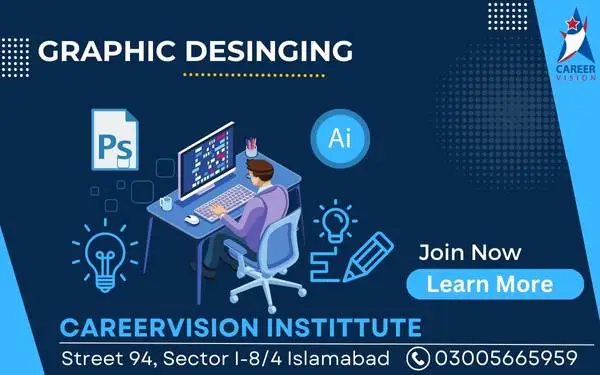 A complete practical graphic designing course to train your through the fundamentals of visual and graphic design and using adobe illustartor and photoshop in islamabad rawalpindi. You will be train with best practices on tools and graphic design processes by experienced instructor in islamabad and rawalpindi pakistan. We have aim to teach you basic graphic design and further to advance design principles by covering graphic art composition, balance, contrast, colors and hierarchy. The best way to teach you the design elements like lines, shapes, forms and textures on adobe illustrator pen, coloring and shap tools.
Careervision Institute has AIM to practically train students with skills and ability to work during this Professional Graphic Designing Course to furnish your skills of graphics design and expertise with both software adobe illustrator and adobe photoshop which will be a key for starting graphic designer career in islamabad pakistan or to start freelancing on fiverr to start online earning in pakistan.
Practically learning of graphic designing from professional trainer in graphics institute is the starting of your skill learn. Whereas you should focus on to improve your design sense. There are many graphic designers who are working as software operators. They do not know the design process. Without proper design sense, you cannot earn high. On the off chance that you need to acquire high, at that point you ought to have incredible structure sense and programming order too. If you are looking for the best graphic design institute in Islamabad, then you must join Career vision Institute. You will learn the following skills at the end of course:
What you will learn in graphic designing and Freelancing course
In Graphic Designing course students will learn adobe photoshop and illustrator to work on logo designing, facebook ads designing, unique business level graphic designing, cover, website images designing. This course also include graphics freelancing to learn how you can use your skill to start working on freeancing website like fiverr and upwork to get good clients to start online earning in pakistan.
For Complete Graphic Designing Course Rawalpindi content details .. VIEW MORE