Database Admininstation
Training Course
Trainer : Mr. Bilal Khan
Course : Database Admininstation Course in Islamabad Pakistan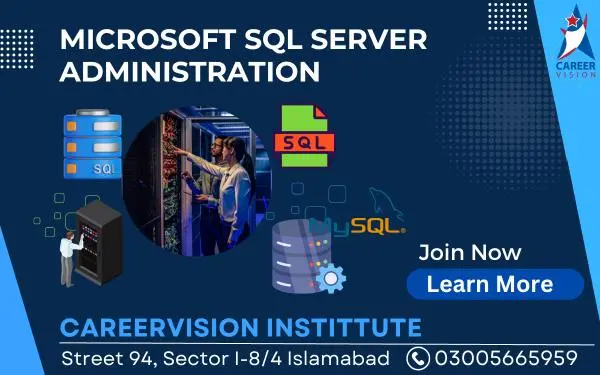 Course Overview
This course covers Microsoft SQL Server Database Administration (DBA) under supervision of database experts in islamabad and rawalpindi center. Now a days DBA Skills is in hot demand due to the computerization growth and reliance on database management. SQL Server is a relational database management system from Microsoft that's designed for the enterprise environment, MS SQL Server is also an ideal database for any dynamic websites which need data processing and user management capabilities.
In this course you will practically learn the skills required to install and configure a Microsoft SQL Server solution and to work in computer labs to work on Sever & network environment which will communicated Database & applications. You will learn to Database Administration by maintaining data storage, backup and restoration, importing and exporting data, security, database maintenance and the SQL Server Agent.
This is complete DBA track which will covers Microsoft certification, which is divided into 12 Sections which will normally cover in 8 weeks (02 Months).
SQL Server Database Administration Course Contents
Section-01 Introduction to Database
🕑

Duration: 03 Sessions
This section covers the following Database Concepts in which you will be awared about environmnet and knowledge of Database Systems.
Intro to Database and RDBMS Model
Database Administration Overview
Introduction to the SQL Server Platform
SQL Database Management Tools and Techniques
Section-02 Installing and Configuring SQL Server
🕑

Duration: 03 Sessions
In this section of training, you will learn installation of MS SQL Server 2016 on Server Machine
Plan SQL Server Installation
Prequsites before Installing SQL Server
Steps for Installation
Post-Installation Configuration
Section-03. Work with Databases and Storage
🕑

Duration: 02 Days
This section cover Storage level configuration with files
Introduction to Data Storage with SQL Server
Manage Storage for System Databases and User Databases
Move Database Files
Configure the Buffer Pool Extension
Section 4. Plan and Implement a Backup Strategy
🕑

Duration: 02 Days
For digital marketing of business pages, you will be traing with creation of FB, Instagram and Twitter graphic designing, advertisements and business products post creation
SQL Server Recovery Models
Plan a Backup Strategy
Backup Databases and Transaction Logs
Business Product Images Creation
Backup Options and Backup Reliability
Section 5. Restore SQL Server Databases
🕑

Duration:2 Days
This section covers backing up database strategy, how to configure backup and restore strategy for SQL Server
Restore Process and Databases Restoration
Advanced Restore Scenarios
Mirroring Database Backup
Point-in-Tim Recovery
Section 6. Import and Export Data
🕑

Duration:2 Days
This section covers transfering database or tables operations. Very useful to learn database or table transfering.
Transferring Data
Import and Export Table Data
Copy or Move a Database
Section 7. Monitor SQL Server
🕑

Duration:2 Days
This section covers monitoring and reporting operations.
Introduction to Monitoring SQL Server
Dynamic Management Views and Functions
Performance Monitor
Trace SQL Server Workload Activity and Use Traces
Section 8. Manage SQL Server Security
🕑

Duration:2 Days
This section covers SQL Sever Security.
Introduction to SQL Server Security
Manage Server-Level Security and Database-Level Principles
Performance Monitor
Manage Database Permissions
Section 9. Audit Data Access and Encrypt Data
🕑

Duration:2 Days
This section covers audit and encrypt Sql Server database.
Audit Data Access in SQL Server
Implement SQL Server Audit
Performance Monitor
Encrypt Databases
Section 10. Perform Ongoing Database Maintenance
🕑

Duration:2 Days
This section covers integrity, performance and routine autmatic maintenance processes.
Ensure Database Integrity
Maintain Indexes
Automate Routine Database Maintenance
Section 11. Automate SQL Server Management
🕑

Duration:2 Days
This section covers automatic Jobs Management and monitoring.
Implement and Manage SQL Server Agent Jobs
Manage Job Step Security Contexts
Manage Job on Multiple Servers
Section 12. Monitor SQL Server Using Alerts and Notifications
🕑

Duration:2 Days
This section covers alerts and notification configurations
Monitor SQL Server Errors and Error Logs
Configure Database Mail and Alerts
Configure Operators, Alerts, and Notifications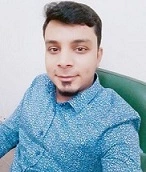 Mr. Bilal KHan is a Software developer and he got 08 years of database Development and administration experience. He is working with eurpion software company to give software and database development n administration online services from pakistan.