Learn Graphic
Designing Training Course

Course
Trainer : Mr. Waqar Ahmed
Course : Graphic Designing Course in Rawalpindi Pakistan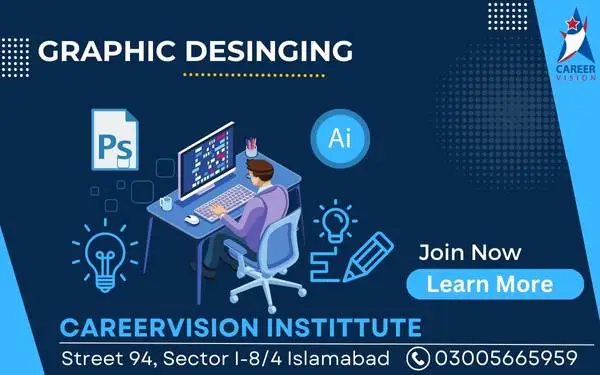 Course Overview
Graphic Designing is a demanding skill for every business once he think to advertised his business through digital marketing. This graphic designing course covering fundamentals of visual and graphic design using adobe illustartor and adobe photoshop.
This training course focus on practical learning outcome to undertand features and tools through professional design processes with best available facility under supervision of graphic design experts in careervision institute rawalpindi campus pakistan.
Students will explore basic graphic design during the starting session by practicing to draw and design by covering graphic art composition, balance, contrast, colors and hierarchy. During training student will gradually shift to advance graphic design methods while use design elements like lines, shapes, forms and textures on adobe illustrator pen, coloring and shap tools. This graphics course gives you a taste of what graphic designers do in the real world and offers the training you need to join them with your newly acquired skills.
Graphics Designing Course Contents
Module 1 : Basic Graphic Designing
🕑

Duration: 01 Weeks
This Module covers the following graphics design work with practical lab work under supervision of Trainer.
Introdcution to Graphic Design
Color Management
Effective Graphic Techniques
Typography
Module 2 : Adobe illustrator
🕑

Duration: 04 Weeks
In this section of training, you will learn Adobe illustrator Software
Intro to illustrator
Visiting Card
Logo designing
Social media Title, Logo
Banners, brochures, and Flyers
Graphics for Website Design
Packaging design (labels, boxes, bottles, etc.)
Typography
Digital illustrations (T-shirt designs, comics, concept art, infographics, etc)
Module 3 : Adobe Photoshop
🕑

Duration: 04 Weeks
Best Adobe Photoshop PS graphic designing
Section Includes:
Introduction to Adobe Photoshop
Basic of Photograph Editing
Photgraph Back ground replacement
Brushing Photograph image
Photo Color Tunning
Use of Filters
CLone a Photograph image
Module 4 : Advertisement Creation
🕑

Duration: 01 Weeks
For digital marketing of business pages, you will be traing with creation of FB, Instagram and Twitter graphic designing, advertisements and business products post creation
Section Includes:
Facebook Page Cover Creation
Facebook Post and Story Creation
Instagram Post and Story Creation
Business Product Images Creation
Infographics Creation
Module 5 :Freelancing Profile
🕑

Duration:2 Days
For Online working, you will be train about creating profiles/ portfolio on Freelancing websites
Fiverr Profile Creation
Fiverr Gigs Designing
Upwork Profile Creation
Upwork Bidding Tasks

Mr. Waqar Ahmed is a Professional Graphic Designer. He is by profession a Graphic Design Frelancer to work online. He got 05 years experience of Training in field of Graphic Designing