Graphics Designing Course in Islamabad
2 August 2023
11:00AM - 06:00PM
Careervision Institute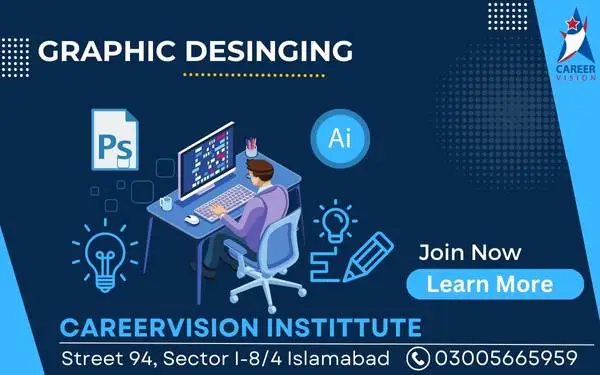 High Demanding Graphics Designing skills in Digital Marketing
Graphics designing skills are in high demand because businesses and organizations across all industries in islamabad and rawalpindi rely heavily on digital communication like website and social media marketing to attract and engage their target audience. In present digital era, it has become essential to have visually appealing graphics designs to effectively convey ideas, deals and offers.
Moreover, social media platforms and digital marketing have revolutionized the way businesses market their products and services. To stand out in the highly competitive market, businesses require professional-looking designs that can capture the audience's attention, convey their message effectively and leave a lasting impression. We also know that with the growth of e-commerce, digital marketing the businesses require good visudal appealing designs for their websites, mobile applications, ecommerce website and product packaging. This has resulted in an increasing demand for graphic designers who can create eye-catching designs that align with the brand's values and appeal to the target audience.
The demand for freelancing courses and graphic designing courses has increased as they provide opportunity to get online work and earn good amount of money instead of searching for jobs. As more businesses are shifting towards remote work, a cost-effective solution for businesses to access high-quality design services without having to hire a full-time employee.
In conclusion, graphic designing course is very good and in high demand because they are essential for businesses to create effective visual communication, digital marketing, and website designing that helps to attract and engage their audience, which is vital for their success in competitive market of islamabad and rawalpindi Pakistan.
For Complete Graphics Designing Course content details .. VIEW MORE