Digital Marketing Course
2 May 2023
11:00AM - 01:00PM
Careervision Institute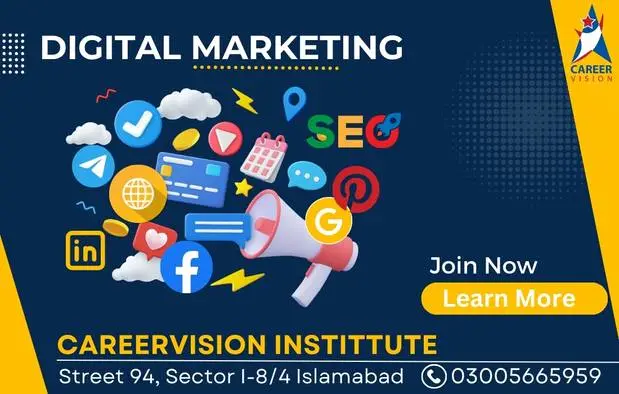 We are offering quality contents in Best Digital Marketing and Social Media Marketing course for beginners. Student of Matric FSc after Exams in islamabad Rawalpindi can join digital marketing course to start working as digital marketer as ervice. best IT courses islamabad includes social media marketing course, website SEO course, wordpress web development course in islamabad and rawalpindi pakistan
In this digital marketing course you will explore the core concepts related to marketing of products and services via digital technologies. You will learn about the push-pull model of marketing and the variety of online business models being used in practice. You will learn to analyse the strategic issues, techniques and processes associated with marketing online and make recommendations to improve digital marketing.
Students who successfully complete this course
1. will be able to Analyse opportunities, challenges and risks associated with digital marketing
2. Discuss online buyer behaviour and how to engage with and respond to online customers and target markets
3. Analyse the power of online communities and how to use them effectively
4. Explore and evaluate key technologies, techniques and processes available for attracting and retaining customers and markets from the online environment
5. Integrate online marketing strategies with offline strategies
6. Plan digital marketing strategies and recommend suitable implementation techniques and performance measures.
7. Social Media Marketing includes Facebook Marketing, instagram Marketing, Linkedin Marketing, Daraz, Facebook marketplaces in this course rawalpindi 8. Basci SEO Course includes learning of Keywords, ubersuggest tool, SEMursh SEO tool, Moz SEO tool practically SEO courses demands in islamabad rawalpindi
Course Outlines:
We will cover following components in depth during Digital Marketing training course.
Module-1:  Social Media Marketing
Module-2: Basic Web and Graphics Designing
Module-3:  Search Engine Marketing (SEM)
Module-4:  Basic SEO Strategies
Module-5:  Digital Web Content Analysis
Module-6:  Digital Marketing Strategy
For Complete Digital Marketing Course content details .. VIEW MORE