Graphic Designing Course
2 May 2023
11:00AM - 01:00PM
Careervision Institute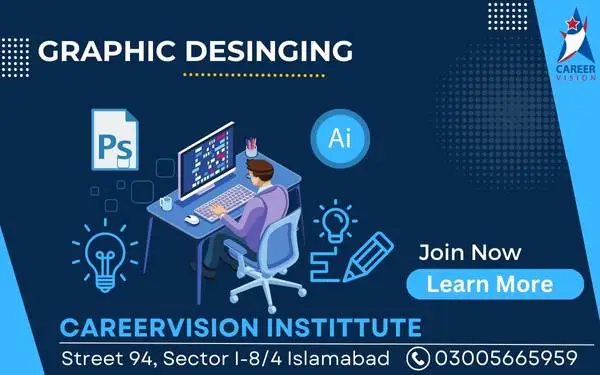 Graphic Designing Field Scope in Freelancing?
The scope of graphic designing is increasing high as far as business requirement come in marketing to create digital content to get leads by digital marketing. Graphic Designer Freelancing is quite broad and varied depending but on other side graphic desinging courses in Islamabad Pakistan is very popular because Business men and organizations are looking for good graphics design working to present their business digitally. As a freelance graphic designing expert after completing training course, you can offer your services to clients around the world, working on projects ranging from small branding projects to large-scale advertising campaigns.
Some of the areas where you can specialize as a freelance graphic designer include:
Branding and identity design: creating logos, business cards, letterheads, and other marketing collateral for businesses.
Web and UI design: designing websites, mobile apps, and user interfaces for various digital platforms.
Print design: creating panaflex designs for print materials such as brochures, flyers, posters, and billboards.
Packaging design: designing packaging for products in various industries
Illustration and animation: creating custom illustrations and animations for a variety of purposes, including marketing materials, social media contents
Title Images Motion graphics and video editing: creating engaging videos, motion graphics, and visual effects for various digital platforms.
People always looking for good price for freelancing, the demand for graphic designing services in the freelance market is continually growing, and businesses of all sizes require the services of freelance designers. This is the reason that we are seeing significant potential for growth and success in freelancing field in the graphic designing courses and trainings in pakistan are in big demand after matric and fsc exams in twin city rawalpindi and islamabad. However, it is essential to keep up with the latest design trends, develop strong communication skills, and maintain a strong portfolio to succeed in this field.
Youa re welcome to visit us for joing new batch of Professional Graphic Designing Course in Rawalpindi Islamabad center. It is a very effective computer course after matric and fsc exam courses. This skilled computer course will capable you to start online working / freelancing on Fiverr website. You must join us to learn graphic designing techniques and tools along with professional knowledge. Our graphic design course is very effective and equipped with latest software for designing.
In this course trainer will start you with first basic classes of graphics and introduction to Adobe illustator to draw vector graphic desings. within one month of sessions and lab practice your will cover up Adobe illustrator tools. In the second month Adobe Photoshop will be started and now both software will be combinely or separatly used for Graphic Designing.
For Complete Graphics Course content details .. VIEW MORE