Course Brief: Diploma Graphics Designing Course
2 May 2023
11:00AM - 05:00PM
Careervision Institute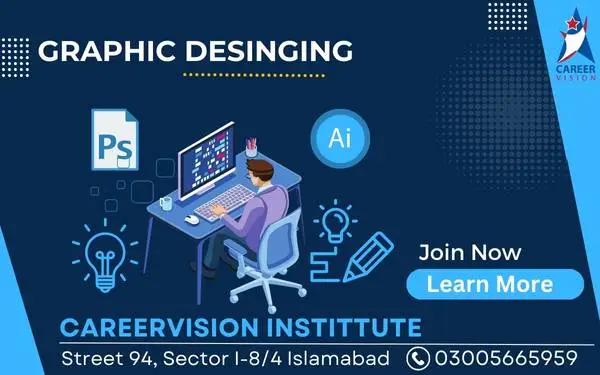 Join best Diploma course in Graphic Designing offered by Careerivision Institute Islamabad under supervision of qualified trainers. It is a good training course covering Adobe illustrator and Adobe Photoshop software by focus on graphics designing elements, creativity and graphic design skils that carry the majority of the content in both the digital world and the printed world for promoting businesses. As graphic designing is a highly demanding and more interesting skill in local markete of islamabad and rawalpindi Pakistan
What you will learn in Adobe Photoshop Course?
During graphics design course adobe phtoshop will be deeply cover while focusing on variety of skills that consists of remarkable use of adobe illustrator to give good grip on Photograph etiting, color illusion and tone adjustment, cloning photos, cleaning and highlighting photographs and photographic art designing skills in Adobe Photoshop, you will learn how work for color correction, compositing, scanning, image size, printing, tracing, smart layers, vanishing points, layer masking background etc. During the course we will also cover best typography practices, corporate level color scheme and layout designing. Whether you're a beginner or an experienced designer looking to improve your skills by joining this course in Islamabad Rawalpindi.
Why Graphic Designing sKill is trending popular on freelancing?
The scope of graphic designing skills is increasing high as far as business requirement come in marketing to create digital content to get leads by digital marketing. You will see increase in Freelancing work on websites. The graphic desing work is quite broad and varied depending but in Islamabad Pakistan Business men and organizations are looking for good graphics design working to present their business digitally. As a freelance graphic designing expert after completing training course, you can offer your services to clients around the world, working on projects ranging from small branding projects to large-scale advertising campaigns.
Graphic Design Course Learning Summary
Introduction to Graphic Design
Adobe Illustrator Introduction and Typography
Adobe Illustrator Basics and Advance Tools
Adobe Photoshop Basics Tools
Adobe Photoshop Advance Tools and Features
For Complete Diploma in Graphic Designing DITContent details .. VIEW MORE