Adobe Photoshop Course
2 June 2023
11:00AM - 05:00PM
Careervision Institute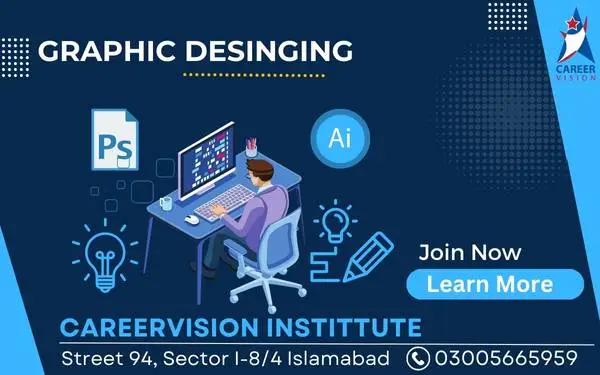 Adobe Photoshop software having a wide range of features that enable professionals to edit, enhance, and manipulate images. This graphic designing software is most popular arround the world to get freelancing task demanded by clients. Adobe Photoshop is a very rich feature Graphic Designing Software, which make it a versatile and powerful tool for graphic and image editing and manipulation.
Here are some key features of Adobe Photoshop what we learn in Adobe Photoshop Graphic Designing course:
1- Image Editing Tools: Photoshop provides a set of tools for editing images, including selection tools, cropping and resizing tools, painting and drawing tools, retouching tools, and text editing tools.
2- Layers: Layers allow users to work on different elements of an image separately and stack them on top of each other. This non-destructive editing feature enables precise control over individual elements and makes it easier to make adjustments and changes.
3- Filters and Effects: Photoshop includes a vast collection of filters and effects that can be applied to images to achieve various artistic or stylistic looks. Examples include blur, sharpen, distortion, noise reduction, and various artistic filters.
4- Retouching and Healing: Photoshop provides powerful retouching tools, such as the Clone Stamp tool, Healing Brush tool, and Spot Healing Brush tool, which allow users to remove imperfections, blemishes, and unwanted objects from images.
5- Advanced Selection Techniques: Photoshop offers advanced selection tools like the Quick Selection tool, Magic Wand tool, and Pen tool. These tools allow users to make precise selections of specific areas or objects within an image.
6- Text and Typography: Photoshop includes a variety of text and typography tools that enable users to add, format, and style text within an image. It offers options for adjusting font styles, sizes, colors, and effects.
7- 3D Editing and Design: Photoshop provides capabilities for creating and editing 3D objects, textures, and materials. Users can apply lighting effects, manipulate 3D objects, and even create 3D text.
8- Smart Objects: Smart Objects allow users to work with embedded or linked external files, preserving the original data and enabling non-destructive editing. It allows for scalability, transformation, and editing without compromising image quality.
9- Batch Processing and Automation: Photoshop includes features for automating repetitive tasks and applying changes to multiple images simultaneously. This can save time and improve efficiency when working with large numbers of images.
10- Integration and Compatibility: Photoshop is designed to work seamlessly with other Adobe Creative Cloud applications like Illustrator, InDesign, and Premiere Pro, allowing for smooth integration and file sharing between different software.
Graphic Design Course Learning Summary
Introduction to Graphic Design
Adobe Illustrator Introduction and Typography
Adobe Illustrator Basics and Advance Tools
Adobe Photoshop Basics Tools
Adobe Photoshop Advance Tools and Features
For Complete Adobe Photoshop Graphic Designing Content details .. VIEW MORE