Basic IT Course
2 May 2023
12:00PM - 01:30PM
02:00PM - 03:30PM
06:30PM - 07:30PM
Careervision Institute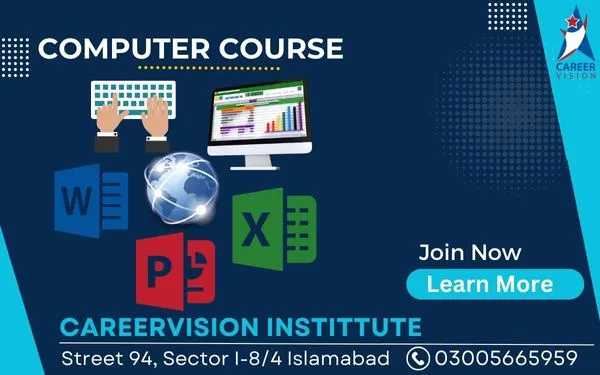 Careervision Institute CTI Islamabad has designed this basic computer course in islamabad and rawalpindi campus for Matric, FSc, icom and bcom students to learn IT courses in islamabad and rawalpindi locally whereas the student who search for 1 month 2 months or 3 months short computer course near me in islamabad and rawalpindi can easly visit our islamabad and rawalpindi campus to start computer course near me.
Mostly students after matric or fsc exams have spare time and they are looking for 2 months or 3 months short computer courses to learn operator computer operations, typing and data entry tasks. We invite students after matric fa or fsc exams to join computer courses, after bcom courses in computer, business person in islamabad and rawalpindi center of careervision institute Cti islamabad.
Those students who want to learn IT and computer courses for office work jobs, computer operator job in islamabad and rawalpindi, they should start learning information technology, improve typing speed, learn MS word MS excel MS powerpoint computer courses which is necessary for office automation jobs in most of the organization needed when hiring computer operators for their office work with minimum qualification of matric or fa fsc. This computer course includes all basic IT courses knowledge what you should learn and perform practical labs work under supervision of IT trainer.(Female trainer and separate classes facility is also available for females after matric computer course). This course is designed to make sure that you have learn the basic computer skills required for computer operator jobs in islamabad and we have aim to provide you full IT skills which will help you in doing computer operator job or work on computer for your business.
For Complete Course details/ course contents .. VIEW MORE