Digital Marketing and Social Media Marketing Courses
1 June 2023
05:00AM - 07:00PM
Careervision Institute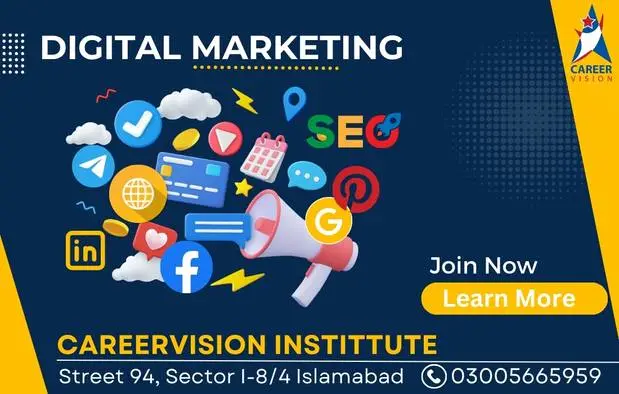 What is Digital Marekting course?
A digital marketing course is a practical training designed to teach students the strategies, techniques, and tools used in marketing products and services online on social media, e-ommerce marketplaces, how to design a website, graphic design creation for business. This IT course covers a range of sections, such as search engine optimization (SEO Course), social media marketing, email marketing, content marketing, paid advertising, website creation, Website analytics and SEO Tools for search better keywords. We are offering it in our rawalpindi and islamabad centers to learn in computer labs under supervision of Skilled Trainers
This course is professionally structured to provide learners with a comprehensive understanding of the digital marketing landscape, including the latest trends and best practices in the industry. It may also include practical exercises, case studies, and real-world projects to help learners apply their knowledge and gain hands-on experience in executing digital marketing campaigns.
Digital marketing courses are available both online and physical facilities, and can be teached for needs of different learners, from beginners to experienced professionals. They are offered by a variety of institutions, including universities, colleges, training centers, and online learning platforms.
Course Outlines:
We will cover following components in depth during Digital Marketing training course.
Module-1:  Social Media Marketing
Module-2: Basic Web and Graphics Designing
Module-3:  Search Engine Marketing (SEM)
Module-4:  Basic SEO Strategies
Module-5:  Digital Web Content Analysis
Module-6:  Digital Marketing Strategy
For Complete Digital Marketing Course content details .. VIEW MORE
What is Scope of Digital Marketing Training Course
The scope of digital marketing training is vast, as the demand for digital marketing skills continues to grow. Digital marketing has become an essential component of any business or organization's marketing strategy, as more and more people are using the internet to research products and services before making a purchase.
By acquiring digital marketing skills by learning in training institute under supervision of experts and computer labs classes effectly help you to develop good it skills. After learning digital marketing course our student can pursue a wide range of career paths in various industries, including e-commerce, advertising, media, and technology. Some of the job roles that digital marketing training can prepare individuals for include:
1- Digital Marketing Manager
2- Social Media Manager
3- Content Marketing Manager
4- SEO Specialist
5- Email Marketing Specialist
6- Web Analytics Specialist
7- Digital Marketing Consultant
8- Digital Marketing Analyst
The digital marketing industry is expected to continue growing rapidly in the coming years, which means that there will be a high demand for skilled professionals who can help organizations reach their target audience online. Therefore, pursuing digital marketing training can lead to excellent career opportunities and potential for growth. The question: is there a way to get the most out of your business? So the answer is yes! Learn Digital Marketing Course In Careervision Institute Faizabad Rawalpindi