Graphics Designing Course in Islamabad
2 May 2023
11:00AM - 01:00PM
Careervision Institute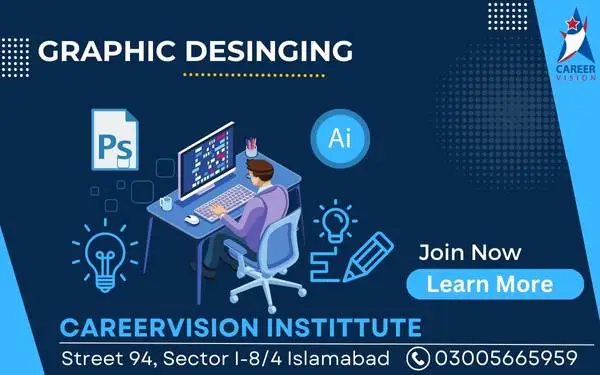 What is Graphic Designing Skill?
Graphic Design is a skill that involves creating visual design to communicate information, better present business, or visual ideas by using any software like Adobe illustrator or Adobe Photoshop. It is the art and practice of designing Graphical content using typography, colors, images, and innovative layout for presenting products, services and offers.
After learning graphics software and keep doing practice make you a graphics designer. A Graphic designers use their creativity, technical skills, and designing software to create various types of graphic designs including company logos, business promotional brochures, panaflex posters, graphics for websites, packaging, and much more as required by organization demands. After learning Graphic design course you can work closely with clients to understand their needs and objectives, and then use their design skills to create visual content that meets those requirements. Now a days graphic design courses has much scope in rawalpindi especially Students after matric and fsc exams take much interest to attend graphic designing course in Pakistan.
Aftr completing Graphic design courses you will feel this skills include a deep understanding of design principles such as composition, balance, and hierarchy, as well as an understanding of color theory, typography, and layout designs for social media marketing,. Graphic designers also need to be proficient in design software such as Adobe Photoshop and Illustrator. In addition to technical skills, graphic designers need to have strong communication, problem-solving, and collaboration skills. Graphic design is a very important skill in today's digital world and presently visual content is an essential component of effective communication and marketing in Pakistan big cities Islamabad and Rawalpindi.
In conclusion, graphic design courses are in high demand because they it is a business need in rawalpindi islamabad to promot business digitally on social media, to create effective visual communication and website design need more good graphical presentation of product and services that helps to attract and engage their audience, which is vital for their success in competitive market of country like Pakistan.
For Complete Graphic Design Course content details .. VIEW MORE