Best Freelacning Course Outline for Beginner in Islamabad Pakistan
Sept 2023
03:00PM - 05:30PM
Careervision Institute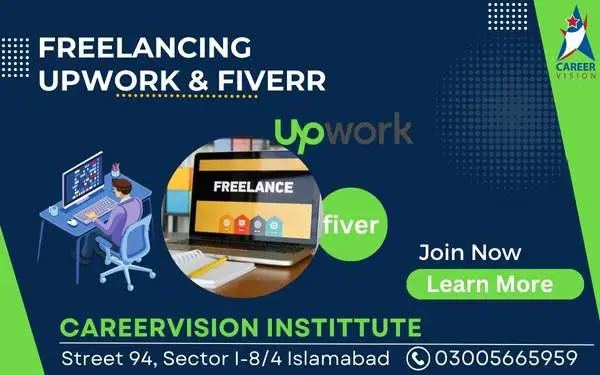 How to start freelancing?
It is very easy to start freelancing but yes offcourse you will be confuse about and offcourse you don't have an idea about to start freelancing and here we had freelancing training to guide you.
1. What is scope freelancing?
Now a days there are many opportunity to earn through freelancing. Foreign clients on freelancing website continously looking for freelancers to do their tasks. You can search the tasks or either someone will reach you after viewing your profile to contact you on fiverr or social media page to give you work. Freelancing having huge demand and we are offering freelancing training course in rawalpindi pakistan to train you. You have thse thing to consider before starting freelancing. These are the questions what you need to clear before you could start up freelancing career.
do you want to work part-time?
do you want freelancing to become your main career?
How much money do you want to make?
What kind of flexibility are you looking for?
How much money do you want to make?
For many people, they are thinking to start online working for clients who are looking someone to do their tasks. You will get them content on freelancing websites, on social media or you can create your profiles on social media pages, on your own website etc. By figuring out your goals for freelancing, you are able to think about how to make your new business work for you in islamabad pakistan
The best thing about freelancing platforms: it gives you an opportunity to earn in foreign currency whereas small amount of USD $ earning will be a handsom money for you. You can connect with clients to understand what he/she want you to do and perform tasks in given period of time.
Careervision is offering best practical freelancing course in islamabad and rawalpindi centers. you can avail this offer to practically learn freelancing and start freelancing career to work from while sitting relax at hometowns like rawalipindi, islamabad pakistan. This journey start with learning skill and to start working online from home to apply their skills or to develop online working skills as freelancer. We will train you with techniques, professional values which could able you to join online forums where you can work online to start earning by taking tasks from different countries all over the world.
Freelancing Course overview
This Freelancing training course will help you to learn practically each methods of freelancing. You will be guided step-by-step to start from ZERO EXPERIENCE to becoming a Freelancer and having a profitable freelance business getting clients you never thought possible.
For Complete Course content details ..CLICK TO VIEW MORE