Course Brief: WordPress Course
5 June 2023
05:00PM - 08:00PM
Careervision Institute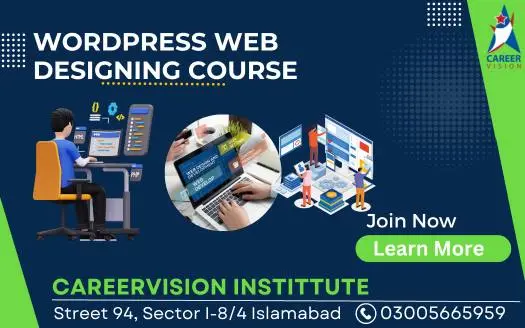 WordPress is a popular content management system (CMS) that allows you to design websites without extensive coding or scripting. You will learn basic concepts and structure of website with how to use pre-built WordPress theme, WordPress pluggin for designing attractive responsive website for a business.
WordPress is among the most influential web development platforms used to design web pages for a business. WordPress provide different feature and tools for website designing and very easy and userfriendly while a begginer can start creating website within weeks by learning short training course. WordPress is an open-source platform and you will use it to create free web page without any cost. Moreover, it includes numerous customization options, WordPress pluggin, templates, etc., allowing users to build personalized web pages on this platform.
Different features of WordPress web designing will be practically teach you. A small portion of Search Engine Optimization is also added to this course, the trainer will also teach you how to do Technical SEO and Onpage SEO which will help you to rank the website contents in Search Engine which helps business to get organiz leads.
For Complete WordPress Web Designing Course Content Details .. VIEW MORE