Course Brief: Adobe Photoshop Training
2 June 2023
11:00AM - 03:00PM
Careervision Institute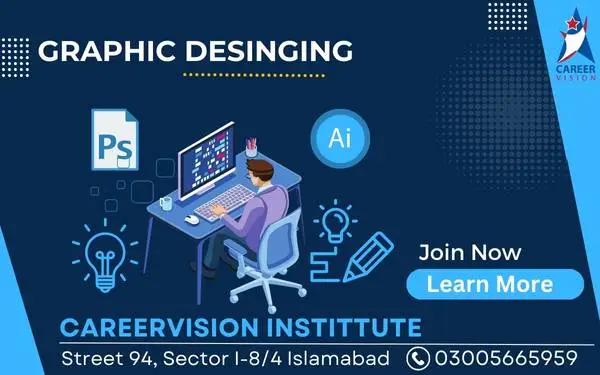 Graphic Designing is a high trending skill in computer field and not only business/ company demand graphic design work but also you will hundred of online tasks daily on freelancing websites. This Adobe Photoshop software is one of the most power full tool for graphic design and freelacning clients ask for designing in adobe photoshop.
We are provide practical adobe photoshop training which includes complete training of Photo Editing, Photo designing, innovative designing idea, creative photo design and best animated images designing. A professional Adobe photoshop experts will train you tools and design processes using Adobe photoshop software which is a very famous IT course offered by careervision institute in islamabad and rawalpindi campus.
We start graphic design training from basic level in start and after a month start advance level practicing which capable you draw and design good graphic design. A beginner can start this training course to get skills of graphic art composition, balance, contrast, colors and hierarchy.
You will learn best graphic designing knowledge by using adobe photoshop to design elements like lines, shapes, forms and textures on adobe illustrator pen, coloring and shap tools. Adobe Photoshop course gives you a taste of what a graphic designers do in the real world painting and creative mind idea with your newly acquired skills.
Key Features of Adobe Photoshop:
Layers Design: One of the great features of Adobe Photoshop to work with layers while designing. Layers allow you to separate different elements of an image, so you can work on them independently.
Variety of Selection tools: Adobe Photoshop offers a variety of selection tools that allow you to select specific parts of an image for editing. Some of these tools include the Marquee tool, Lasso tool, Magic Wand tool, and Quick Selection tool.
Retouching tools: Adobe Photoshop facilitate with several tools for retouching images, including the Clone Stamp tool, Healing Brush tool, and Patch tool. These tools are very helpfull to you for removing blemishes, wrinkles, and other imperfections from images.
Text Typography tools: Adobe Photoshop includes range of typography tools that allow you to add beautiful text to images, by applying different fonts and styles, and adjust the size and spacing of text.
3D design capabilities: Photoshop includes a set of 3D design tools that allow you to create 3D models and text, apply textures and lighting effects, and render your designs.
Integration with other Adobe products: Adobe Photoshop can be used in conjunction with other Adobe products, such as Adobe Illustrator, Adobe InDesign, and Adobe Premiere Pro. This makes it easy to share files between different programs and create a cohesive workflow.
Overall, Adobe Photoshop is a powerful and versatile tool that can be used for a wide range of image editing and design tasks.
For Complete Graphic Designing Course islamabad content details .. VIEW MORE