Course Brief: Freelancing Course
15 July 2023
11:00AM - 05:00PM
Careervision Institute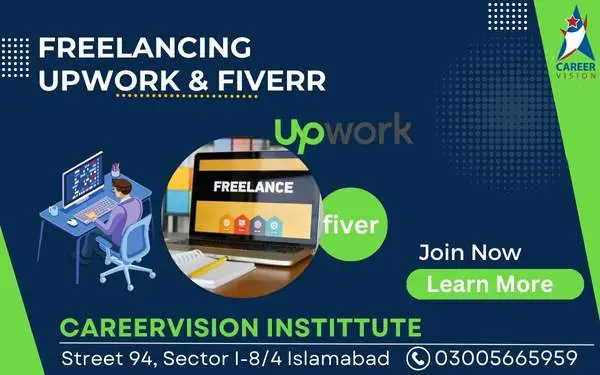 Freelancing is a services level methodology to work online for customer to complete their tasks. Freelancer provide his/her services which depends on his/her skills and expertise what he acquire or capable to complete tasks what he can search on freelancing websites. Freelancer need to create a professional portolio website or profile on freelancing website like fiverr and upwork.
Online customers are looking for skilled persons on freelacning website and reach him/her by viewing his professional profile to hire their services what he mentioned in portfolio which is a big online earning opportunity for students in pakistan. The most common skills in present days for which customer hire people for freelancing services include digital marketing, content writing, graphic designing, web development, social media advertisements and content creation, Website SEO, accounting and finance management, computerize accounting etc. The best thing about freelancing what make it more popular is you can do all kind of freelancing tasks while sitting at your home. People in big cities like in islamabad and Rawalpindi most frequently involve in freelancing work and day by day it is in high demand in country like pakistan.
Careervision Institute is a best freelancing, IT and computer courses institute in islamabad and rawalpindi city. Our freelancing experts will train you with all concepts and ideas of freelancing during this training course in our islamabad and rawalpindi centers. We have great experience of freelancing online working, amazon virtual Assistant and our trainer will guide you about how to create freelancing profile, how to create gigs title images on fiverr and how to get connected with clients to offer your services online.
Our Freelancing course trainers will share all his knowledge, tip and tricks to guide you about projects contracts, bidding and fiverr gigs design / title description writing to get response from worldwide customers who are looking to hire professional and educated person to work online to complete their tasks. In this freelancing course trainer will not only train you regarding basic to advance knowledge about freelancing but will also transfer his expertise what he developed through his Freelancing experience in field of freelancing.
What are benefits of freelancing in pakistan ?
Freelancing offers so many benefits, for example as you can utilize your skills and the ability to work from home or anywhere with an internet connection, the flexibility to choose your time and task for working, and the opportunity to work with a variety of clients and industries. On other side, freelancing is a challenging one, as it requires a high degree of discipline, motivation, and business management skills to succeed.
For Complete Freelancing Course Content details .. VIEW MORE