Course Brief: Graphic Designing Course Islamabad
2 May 2023
11:00AM - 01:00PM
Careervision Institute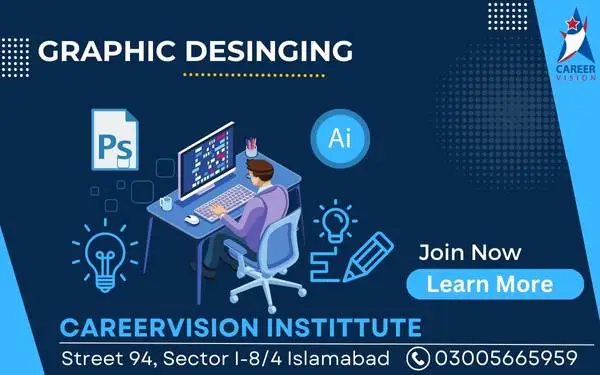 Graphic Designing short course is a good training with best scope in the markete and every business require graphic designing expert for creating graphic contents for digital marketing as well as traditional marketing. The Words and pictures—the building blocks of graphics designing are the elements that carry the majority of the content in both the digital world and the printed world to get promote any business. As graphic designing becomes more visible and prevalent in our lives, graphic design as a practice becomes more important in our culture in islamabad pakistan
Careervision Institute will effectively train you during this Professional Graphic Designing Course in Islamabad and Rawalpindi in which you will get course training about visual examples, this course will teach you the fundamental principles of graphic design: image making, typography, composition, working with colour and shape... foundational skills that are common in all areas of graphic design practice. I don't just want you to watch a video of someone talking about design, I want you to MAKE design! If you want to be a designer you have to be a maker and a communicator, so this course will offer you lots of opportunities to get your hands dirty with exercises and with more practical projects.
A professional Photoshop and illustrator graphic desinger Mr. Waqar will traing you with adobe software who is good graphic desinging in islalamabd and rawalpindi who trained many students to start their career in graphic designing. May of careervision institute students are working here in market of islamabad and rawalpindi to serve different organizations.
To succeed in this course you will need access to a computer. You can complete this course without one but it will be tougher. Access to, and a beginner's level knowledge of Adobe Creative Suite programs, such as Illustrator, Photoshop and InDesign will help you, especially if you want to complete the optional briefs.
At the end of this course you will have to work professionaly to design graphics logo, brand identity graphic material and will better now how to explore and investigate visual representation through a range of image-making techniques; understand basic principles of working with shape, colour and pattern; been exposed to the language and skills of typography; and understand and have applied the principles of composition and visual contrast. If you complete the course, along with its optional (but highly recommended) briefs, you will have a core set of graphic design skills that you can apply to your own projects, or to more deeply investigate a specialised area of graphic design.
What you will learn in graphic designing course, course contents are as follows
Introduction to Printing colors and Concepts (CMYK)
Color theory and resolution for printing materials.
Adobe illustrator
Vetor Image Creation, and designing graphic material for business
Drawing Basics tools pen tool, selection tools in adobe illustrator
Layouts and cover designs for Printing materials, Professional Artworks
Creating logo, visiting card, faceboo instagram ads Templates
Adobe Photoshop CS6
Image Processing and Creating professional
Layouts and cover designs for Printing materials, Professional Artworks
Creating Presentation Templates and media slide templates/ Logo creation etc.
Adobe Premier Pro CS6
Professional Video Editing and creating Special Video Effects with animations
Unlinking Audio and Video / separating Audio with in a video clip etc.
Schedules:
Complete Days Duration - 2 Month (Mon to Thur 09:30am - 01.00pm)
Friday-Saturday-Sumday Batch Duration - 2 Months (9.30am - 01.00pm)