Course Brief: Freelancing Course
2 May 2023
11:00AM - 01:00PM
Careervision Institute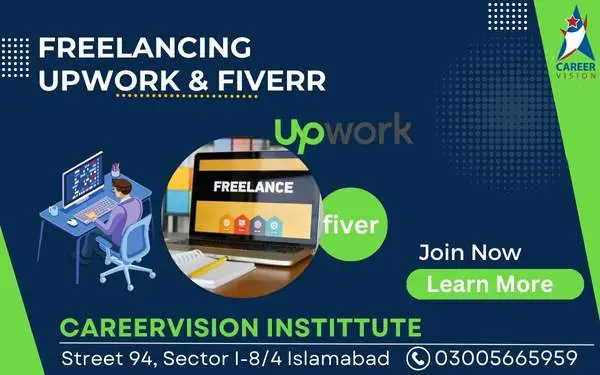 This freelancing course is for interested people in islamabad pakistan who are passion about starting freelancing but don't have good idea or confuse to start. We have good freelancer trainer who are already working on online projects, more than 50 students compelted freelancing course and got trained with best practice techniques, professional values and very successful in freelancing career while pefroming online freelancing working on websites like upwork and fiverr from their home in islamabad and rawalpindi.
We got freelancing expert trainer for this freelancing course in our islamabad and rawalpindi centers. We have great experience of Freelancing online working in practical where our trainers will share all his knowledge, tip and tricks durint the freelancing course to guide you about projects contracts, bidding and fiverr gigs design / title description writing to get response from worldwide clients who are looking to hire professional on online forums like Upwork and Fiverr. In this freelancing course trainer will not only train you regarding basic to advance knowledge of freelancing but will also transfer his expertise what he developed through his Freelancing experience in field of freelancing. We will guide you with gadget of tips and tricks to attract clients with your professional profiles and better train you with choice of mostly demanded skills for freelancing.
What is freelancing?
To work online for remote clients who hire you for work on Freelancing websites through contract to pay for your working. Freelacning is a project based hiring whereas an individual offers their services to clients on a project or assignment basis for few days or weeks. Freelancers work independently and typically do not have long term commitments to any one employer or company.
Freelancers can provide his/her services, depending on their skills and expertise what he acquire and capable to complete tasks what he can search on freelancing websites, or through his profile someone reach him/her to hire the services what he mentioned in portfolio. Some common freelance services include digital marketing, content writing, graphic designing, web development, social media pages and content creation, Website SEO , accounting and finance management, computerize accounting and consulting etc. Good thing is that you can do all kind of freelancing tasks while sitting at your home. People in big cities in islamabad, Rawalpindi, lahore, karachi involve to do freelancing and in high demand in pakistan.
Freelancers can find work through various website, such as online freelancer platforms, portfolio reach, referrals from previous remote clients, and freelancer networking websites. They are usually paid on a per project basis, with contract charges that can vary depending on the complexity and technicality of the projects, the freelancer's level of expertise, and other factors involves.
Freelancing offers a number of benefits, such as the ability to work from home or anywhere with an internet connection, the flexibility to choose your own schedule and projects, and the opportunity to work with a variety of clients and industries. However, freelancing can also be challenging, as it requires a high degree of self-discipline, self-motivation, and business management skills to succeed.
For Complete Freelancing Course Content details .. VIEW MORE