>Adobe Illustrator vs Adobe Photoshop
When and Why to Use Each Software?
People always feels confusion about choosing Adobe llustrator and Photoshop while you come up to design something, a selection can leave you quite baffled. Specially when you are new graphic designer, you might also be facing a hard time to find differences between two and when and why to use each program? while choosing among Illustrator vs Photoshop since both these software are among the famous and are essentialgraphics designing software. So here in this comparison between Adobe Illustrator vs Adobe Photoshop, we will rest down all the debate and guess what?
Illustrator vs Photoshop: What are they and which is better?
This is a kind of comparison where "why" there is a difference is more important than "what" is the difference. The basic difference between the two lies in the purpose for which both the software are designed. In this comparison, I have discussed it later in more detail.
What is Adobe Illustrator?
Adobe Illustrator, a popular software among logo and vector graphics. It is basically an editor that was originally designed and marketed by Adobe Inc. for Apple Macintosh. Since its development in 1985, it has released numerous versions. The latest version, released in October 2018 is the 23rd generation update in its line of products.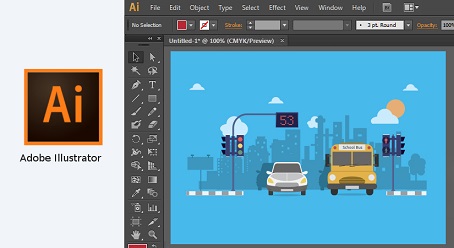 What is Adobe Photoshop?
Adobe Photoshop, unlike Illustrator is a Raster Graphics Editor. It was originally designed by Thomas and John Knoll in 1988 for Windows and macOS. Feb 19, 1990, marked its initial release 29 years ago. The recent release was CC 2019 in August 2019.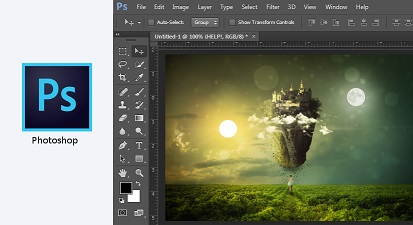 Illustrator vs Photoshop: When you need to choice for designing?
Photoshopis basedonpixels while Illustrator works using vectors. Photoshopis raster-basedanduses pixels to create images.Photoshopis designed for editingand creatingphotosorraster-based art. Illustratorworks off vectors, these are points used to create perfectly smooth lines. Here is the answer to "Why" there are differences and hence a comparison needs to be done. While Photoshop is the tool mostly and widely used for image editing purposes,illustratoris mostly and widely used for image creation purposes. Let us now discuss these points in-depth further.
When to use Illustrator?
When you want to literally "create" a design or image from scratch, just based upon your own perception.
If you need more flexibility, for example, if you want to create some design you would like to have a free hand to produce the best possible results.
To support the above point let us say you want to create a logo that you have only just thought in your mind. Now Illustrator comes with plenty of tools and new updated features to help you to bring your ideas to life.
If you want to work on any vector-based projects such as logos, designs or similar others where you want smooth edges, freedom from resolution issues and need zooming capabilities, etc, Illustrator is a must-have software.
When you want to create documents such as annual reports, brochures, etc, Illustrator can prove to be of great use.
It plugins will help in making blank web pagesinto a brilliant looking web page.
When to use Photoshop?
If your primary goals are related to image editing or enhancement, then Photoshop can prove to be the best option for you. It comes with various tools and features for that purpose.
Apart from basic editing, if you want corrections to any existing work such as adding a border, re-touch, blemish removals, etc, Photoshop comes in handy with new upgraded features that constantly keep releasing.
When your artwork is pixel-based or in other words, you are using raster-based graphics, then go for it.
It is also useful in a way that apart from raster graphics manipulations, basic vector artworks can be modified too.
I assume that by now you are clear how and why they are different and now you must be sure about their working style as well. Why this two software are the talk of the town? The answer lies behind awesome features and plugins that constantly keep enhancing the use of the software.
What is Illustrator vs Photoshop Pricing?
Photoshop: An official Adobe Photoshop software purchase page given details of monthly and annual subscription charges. The standalone Adobe Photoshop application software can be availed at $20.99 on a per month subscription basis.
Illustrator:As a single software ap, Adobe Illustrate is priced at $239.88 on a per year subscription basis according to itsofficial purchase page.
Illustrator useful features:
Work on any scale: With Illustrator you have the capability to scale up or scale down your work at any time during your project. It assists you in working to a finer level with your project. Your beautifully crafted designs can serve as a great resource for various IT industries. Say inWeb designing, Graphic Designing, Best graphical illustrations and representations can help to easily grab a better number of audiences.
Create designs, Innovate with some text:Yes, the text is not just a text here, apply whatever style or creativity comes to your mind even to the text matter. Who knows combining them might lead to some awesome textual designs as well.
Dynamic ways to create:This software allows you more ways to work with designs such as importing and giving them a re-touch with yourcolor scheme, drawing to append your own style with the art and many more.
Collaborate with other tools of Adobe family:You are not restricted to just create inside the extent of this software. Combine the functionalities of other graphic software of Adobe such as InDesign, XD, and Premiere Pro to obtain more efficient results.
Photoshop useful features:
Ease of use:You must already be aware of the popularity of this software. But ever thought how it has reached a great number of users? The reason is simple but obvious, yes, the ease of use. A beginner can easily pick up with the working style of Photoshop. The remaining is all upon the creativity of his mind. So basically, anyone can use it to create whatever he wants.
Awesome editing, unbelievable transformations:We talked a lot about the creative capabilities of Illustratrator earlier, but photoshop is also no less. Import any image to Photoshop, and the tools and options provided can literally transform it. As if it was literally created.
Free-handed creativity:Use tools such as paintbrush, markers, pencils, etc to create smooth and clear illustrations. Though the illustration capability is less than illustrator since this software is meant for a different purpose, a little illustration touch can totally redefine your artwork.
Covering a greater range of devices:With the ever-increasing popularity of photoshop, Adobe is all set to increase its capabilities and provides more tools and functionalities for a wide range of devices as well. With portable devices such as iPhone or iPad, you become a creator on the go.
Illustrator vs Photoshop: What are tools and plugins to use?
Additional plugins provide a more upper edge of any software. We will have a look at some of the famous plugins and their functionalities. With illustrator you can create logo it is among best logo makers.
What are the tools and plugins of Photoshop vs CorelDraw?
Illustrator Plugins:
Illustrator started supporting plugins originally with the release of Illustrator 7 in 1997. It quickly extended its abilities with it. Some of the best illustrator plugins re listed here:-
Astute Graphics Illustrator Bundle Plugin:With its one package, it gives access to all of its plugins. Using this plugin extends your functionalities by providing features such as intuitive vector sketching, live stipple effect, etc. The updates released are provided to you free of cost, hence it is only one time paid plugin.
Cineware for Illustrator:This one is a boon for the product of grphaic designers and those users who like experimenting with 3D. You can import any 3D video to adjust the elements such as view and lighting, thus enable you to integrate any 3D element coherently.
Gold Rush for Illustrator:Are you a designer who likes some experiments with your design? This plugin can be of much use to designers who want to incorporate a shiny texture to their design but cannot find any stock plugin good enough for the purpose. With this plugin, you can give a powerful and metallic glitter texture wherever required in your design.
Fontself:Not satisfied with the already available stock fonts? Well, make a font of your own here and give a personalized font touch to your design.
Apart from the above plugins, you can get more Adobe recommended Illustrator plugins on their official website.
Photoshop Plugins:
Plugin's journey for Photoshop started in 1991. They are a boon for creators with the out of bound creativity which can't be comprehended by stock plugins alone. So, which are some of the most used and what are their additional functionalities, let's check them out.
Pexels Photoshop plugin:As photoshop can sometimes be used as creation purposes as well, this plugin can provide you a great pool of stock images. Import them in photoshop and you can experiment or create with them by using effects and tools provided by default by photoshop or other plugins.
Fontself Maker for Photoshop:Just like photoshop, you can create your own fonts in photoshop as well. This plugin allows you to customize and create your own fonts if you want to add your personalized text touch to your projects.
Chameleon Adaptive Palette:This another photoshop plugin with an important usage. As the name suggests, the constituent colors of this palette change according to the color chosen by you. Thus this plugin can be very useful for artists and designers working on some duotone based graphic projects.
Aurora HDR'19:As the name suggests, it's a plugin related to improving the definition and resolution of any image or video being edited in photoshop. If you are an HDR photographer, this plugin can assist you in modifying various aspects of your image or projects, to give you a result just the way you want.
I hope that you definitely found some of these plugins to be of great usage, however, you can try some of the Adobe recommended photoshop plugins through their official website.
Illustrator vs Photoshop: Compatible with other Adobe Family Software?
Yes, talking about Illustrator, it has compatibility with its open-source counterpart "Inkspace". The SVG format exported by Inkspace is supported by Illustrator. It can also import ".ai"(Adobe Illustrator) files natively.
Coming to Photoshop, its ".PSD" file(the extension for the format), can be imported for use effectively by other Adobe apps as well such as Adobe Illustrator, After Effects and Adobe Premiere Pro and its open-source counterpart Gimp.
en-source counterpart Gimp.
Illustrator vs Photoshop: Which has upper hand?
I would like to conclude this comparison article, and hoping that you will be able to understand all points throughout this Illustrator vs Photoshop Comparison. Since both of these graphics designing software are quite popular in pakistan once someone start working with graphic designing or web development. We feel it important to build a comparison so as to give a clear idea to the users regarding usage, features and purpose to use. Through difference sub-heading such as plugins, purpose and which one to choose and when I tried to answer your maximum queries in a straight forward way this will help you do design a website. you can do photographic Editing, Artistic Graphic Designing, draw a complex Graphic Image or designing a website with good designing software and get a greate designing ideas. So please leave your feedback below regarding how clear our information is and how you made use of it.
CAREER VISION TRAINING INSTITUTE ISLAMABAD
Career vision institute having facilities for complete 03 Months Practical training of Graphics Designing using Adobe Illustrator and Adobe Photoshop in our training centers located in Islamabad, Rawalpindi, Lahore Pakistan. A Regular Morning & Evening Training classes are conducted at Career vision Institute Islamabad. We provide practical learning environment to students with computer labs training sessions and Graphic Designing projects using Adobe Photoshop & Adobe Illustrator Course in Islamabad Rawalpindi and Lahore with advance Techniques of Graphical Art and Designing.
Graphic Designing software:
It is very important to have a proper understanding of design principles and rules. After learning all the fundamentals of design, practical knowledge is also very important. Participants will learn the latest versions of design software. For functional abilities, understudies will do assignments and class ventures. To create amazing graphics, artistic designs and participants will learn to use the following design software:
Adobe Photoshop CC
Illustrator CC
What this Course will Cover?
Your will learn following different graphic designing work by learning tools and practical lab work under supervision of Trainer.
Visiting Card Designing
Logo design
Brand identity
Social mediaads
Magazine Design
Banners, brochures, and Flyers
UI Design (Webpage, Apps, Games and theme designing)
Print Media (books, newspapers, catalogs, newsletters, etc.
Packaging design (labels, boxes, bottles, etc.)
Motion graphics (GIFs, animated logos, text animations, etc)
Typography
Photography
Digital illustrations (T-shirt designs, comics, concept art, infographics, etc)
Freelancing