Amazon VA Training Course
1 Sept 2023
05:00PM - 08:30PM
Careervision Institute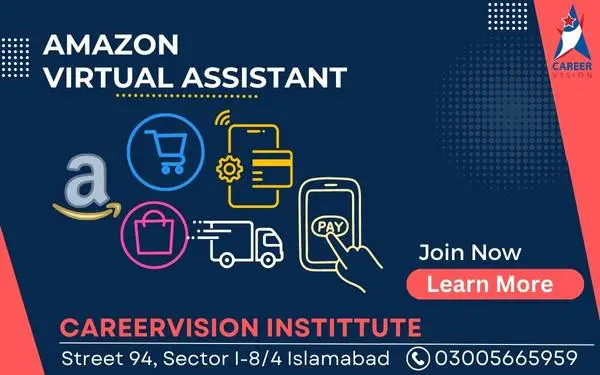 Amazon VA course is a hands-on practical training on Amazon virtual assistant to learn Amazon Ecommerce model, how to manage store Operations like product listing, order and sales management in islamabad rawalpindi. This virtual assistant course will cover Amazon FBA and Arbitrage process for running a Amazon e commerce Business and person will be capable to work on amazon products sales operations, product research and hunting with practical lab sessions. Amazon Course includes learning of all amazon seller central operations, Amazon orders dealing, sale management, client handling, orders etc under supervision of experienced trainer.
Amazon VA Course in Islamabad
This Amazon VA course practically cover all operations relevant to administrative, financial and technical aspect which includes credit transfers in islamabad to poyoneer accounts, and wholesale suppliers. On other side you will learn how to collect payment from amazon seller central whereas you will need paypal or poyoneer account, how to get these accounts will be teach to you during the course. You will be teach about what knolwedge is require for Amazon Virtual Assistant VA duties. Moreover, course covering how to create Amazon seller account and what are the requiremnet needed to start a new fresh amazon seller central account. Complete transactional knowledge about what is  FBA and Arbitrage will be teach to you along with learning how to start Amazon freelancing on upwork to earn online as freelancer.
Course Outlines:
We will train you in following Ecommerce and Amazon practical area in depth during Amazon training Course
1- Introduction to E-commerce
2- Introduction to FBA and FBM
3- Amazon FBA Concepts and Requirements
4- Details about Amazon FBA Wholesale, Amazon Drop shipping
5- Amazon Product Hunting and Research Tools
6- Introduction to Product Analysis and Hunting Tools
7- Amazon Sourcing and Logistics
8- Working with Amazon Seller Central Product listing
9- Amazon Order Management and Customer Support
10- Amazon Cases and Report Handling
11- Best practices for reaching maximum customers
12- Amazon Store health, reviews, feedback, and ratings
13- Business Ethics for Amazon Business