Amazon Virtual Assistant VA Selling Course
2 June 2023
05:00PM - 06:30PM
Careervision Institute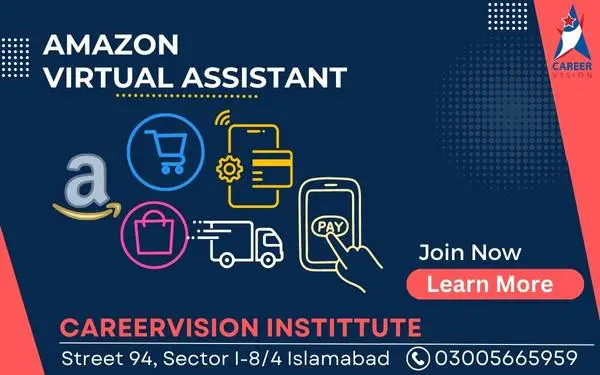 Careervision Training Institute is offering hands-on practical training on Amazon virtual assistant to practically handle store Operations in our coaching centers in islamabad and rawalpindi facitlies. This Amazon VA course is for people who are interested to learn working on Amazon FBA and Arbitrage process for running a Amazon e commerce Business and learn amazon products selling and order operations. This course includes learning of all amazon seller central operations, Amazon orders dealing, sale management, client handling, product research, product listing etc. This course cover all operations relevant to administrative and technical support of Amazon business which is require for Amazon Virtual Assistant VA duties. Apart from this you will learn about Amazon seller account knowledge what is  FBA with Arbitrage and wholesale logistic/resourcing. You will learn how to start Amazon freelancing on upwork to earn online as freelancer.
What is amazon Virtual Assistant VA?
An Amazon virtual assistant VA is a person to manage various operations of Amazon business remotely online to sit from home. Virtual Assistant offer a range of services depending on his knowledge, practical skill set they possess to work on Amazon Seller Central to manage products, orders and selling work. In other words, it covers all the tasks relevant to business selling operations on E commerce that an amazon store owner want him to do for. You could work in store operations, customer service, advertising, or market research for good amazon products to hunt.
These Amazon skills are not only helpful for freelancing to work as Virtual Assistant but also for onsite jobs in your city to give support to local owners who are operating their Amazon Businesses. You will develop highly refined management and communication skills in amazon virtual assistant course that will assist you in managing amazon seller central operation and difficult amazon relevant tasks like product hunting, product research, business communication with wholesaler for FBA or to Arbitrage products from e commerce marketplace with efficiency. The duties of a virtual assistant can vary from addressing consumer queries, supply chain management, product listing, social media management, etc.