Learn Amazon FBA VA AWS Services & Arbitrage Course Institute
01 Sept 2023
12:00PM - 08:30PM
Careervision Institute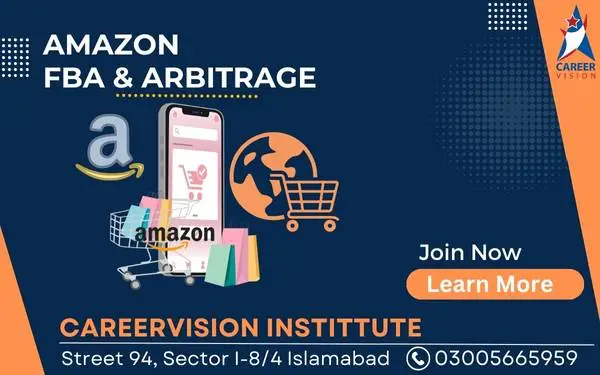 It is a hands-on practical Amazon Course in careervision rawalpindi Islamabad covering complete training of Amazon FBA operations, seller account creation, dropshipping and product list Management. We train students with wholesale dealings, product sourcing and international stock logistic management. During Amazon Training, students will practically learn Amazon seller central management in computer class and labs under supervision of Amazon Experts in our Rawalpindi and Islamabad Institute. This Amazon Training course is for those who are interested to learn Amazon Seller Central start learning how to source wholesale products, how to manage sale operations and management of received orders. After attending this course person can be able to work as virtual assistant on freelancign websites or to start Amazon FBA business store. Apart from this you will learn about Amazon seller account knowledge what is FBA with Arbitrage and wholesale.
Amazon course is a training what capable you to start your amazon business, After completing Amazon course we assure you will perform well on with your skill in amazon seller central operations, and we hope so our amazon course in islamabad will help you alot with your working as Amazon FBA Wholesale business person.
In this amazon course, our expert trainer will not only train you regarding Amazon Seller Central operations but will also transfer his knowledge what he got through his Amazon experience and in the light of his expertise he will guide you with gadget of tricks and tips to increase your Amazon sale to earn money.
Amazon FBA & Arbitrage Training Course Outlines:
1- Concepts FBA and Dropshipping in Islamabad Rawalpindi Pakistan
2- Virtual Assistant Role
3- Amazon Wholesale Requirements
4- Amazon Product Hunting and Research Tools
5- Introduction to Product Analysis and research Tools
6- Amazon Seller Central Account Requirements
7- Amazon Product Sourcing and Logistics
8- How to create account on amazon seller central
9- Working with Amazon Web Store's Product listing, Product management
10- Amazon Order Management and Customer Support
11- Amazon Review Cases and Report Handling
12- Best practices for reaching maximum customers
13- Amazon Store health, reviews, feedback, and ratings
14- Business Ethics for Amazon Business
15- Effective opportunities to generate higher sells, increase selling of product
16- Guidance for Creating Amazon VA Profiles on Freelancing websites.